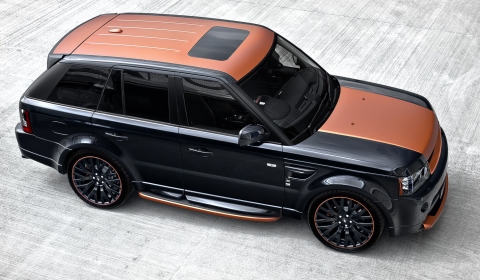 Project Kahn has released its 2012 Vesuvius Edition Sport 300. The special edition Range Rover Sport got a special orange hood and custom orange interior pieces along with suede.
The whole car is colour coded, interior and exterior, in Vesuvius orange. According to the UK tuner, driving the Vesuvius edition means sitting behind the special windows and piloting the twin turbo supercharged engine while listening to the specially crafted stainless steel exhaust.
The exterior upgrades include a metallic black with Vesuvius matt orange roof stripe and bonnet stripe, black rubber sidesteps with orange edge, front extended lip spoiler in orange/black, grille insert in orange, Kahn RS 22 inch black alloys with orange stripe and a quad exhaust system finished in black.
The inside features a bespoke touch with a whole new bespoke black/orange RS leather sports interior with front and rear seats, steering wheel with Vesuvius orange stitching, four door panels quilted, machined vented foot pedals and Kahn interior branding.