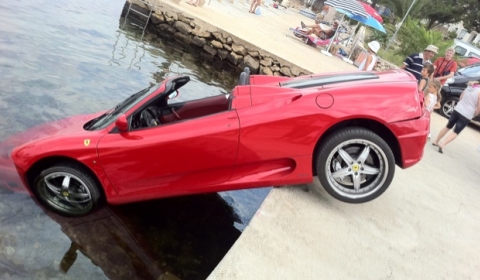 A rather unusual crash happened on the island of Pag, Croatia, this morning. In the city of Jaksinica, a driver and a red Ferrari 360 Spider ended up in the sea, when the brakes of a rental van failed on a downhill slope. The Slovenian van pushed the parked Ferrari into the water.
The Ferrari is registrated on Slovenian plates and is normally parked in the streets of Ljubljana.
Update: A gallery with more pictures has been added. Somehow we guess he had it coming with this type of a license plate.
[Via Dnevnik.hr and pictures via Jutarnji.hr]