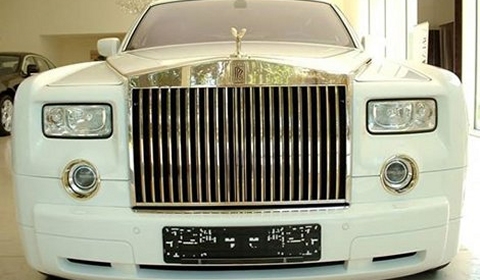 What about an armored, gold-plated luxury car that costs $ 8 million? Anybody interested? If so check out this white Rolls-Royce Phantom EWB with a solid gold treatment ordered by a businessman from the Middle East for the outrageous price of $ 8,150,000.
The golden treatment includes a gigantic golden radiator grille, chrome-plated door handles, trunk-lid trim, hinges and hardware on the rear picnic tables were replaced with solid 18K gold. The "RR" logos in the wheels also received an upgrade. United Kingdom's Stuart Hughes is responsible for the project. The company is known for covering iPads and other electronic devices in the precious metal.
The owner's safety is the second subject surrounding this exclusive vehicle. Thanks to Eurocash AG, a Swiss coach-builder that specializes in armoring vehicles, this particular Rolls can withstand assaults from AK-47s, Dragunov sniper rifles, and even hand grenades. It took them 18 months to build it!
On the inside a plaque states: "One of the first two Armoured EWB Phantom of Production in the World," so apparently the only expense spared on this Rolls was the cost of a proper translator.
[Via Yahoo.com]