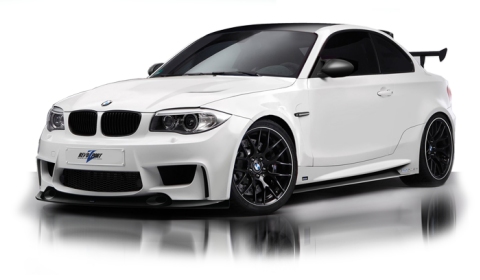 This is the RevoZport 1M Raze P450, a project based on the BMW 1-Series M Coupe co-developed with CP Engineering. The goal was further improving its power-to-weight ratio and aerodynamic efficiency.
All products outfitted to the vehicle are designed on the premise that form should follow function, according to the US specialist. Weight reduction is the main priority with a total weight reduction of 60kg achieved through the use of carbon fiber products.
The exterior weight reduction treatment includes a lightweight bonnet, front splitter, front splitter brake duct kit, side skirts, lightweight trunk, trunk lip spoiler, GT spoiler with mount, roof spoiler, lightweight roof panel, rear diffuser, front grill, mirror covers and front & rear interior door cards.
On the performance level the US company offers intake cone filters, a front mounted intercooler, BOV charge pipe, downpipes, ECU tuning with standback and plug and play harness. The titanium exhaust is made with TP340C Titanium from Japan and weighs only 7kg. It produces a throaty sound while providing a free flow system without compromising back pressure for low end torque. Exact figures have not been released by the company, but the 'P450' in the name suggest a maximum output of 450hp.
A large amount of parts are also available for BMW E82 1-Series Coupe models. If you want to know which ones exactly, please check the website from RevoZport Racing Technology. You will also find the prices for all the parts on the site.