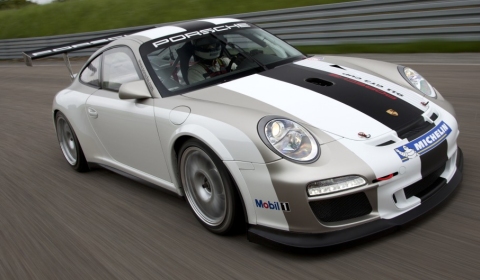 Porsche has released new information on the 2012 911 GT3 Cup. The brand new racer features a 100-liter FT3 safety fuel tank, which is filled via an opening in the front bonnet. Compared to its predecessor, the vehicle is now suitable for an even wider range of endurance racing.
The 2012-spec Porsche 911 GT3 Cup is based on the lightweight 911 GT3 RS (997) street sports car. The power unit is largely identical to the production engine of the 911 GT3 RS with the same output of 450bhp and the same maximum engine torque of 8,500rpm.
The flared wheel arches at the front axle accommodate light alloy rims measuring 9.5Jx18 with 25/64-18 Michelin race tyres. The light alloy rims at the rear measure 12Jx18 with 30/68-18 tyres. Depending on the type of racing, the new 911 GT3 Cup features different rim specifications.
The new Porsche 911 GT3 Cup will be delivered to teams around the world from September and will be run in this specification for the 2012 and 2013 race seasons in selected one-make cup series. The price is 161,750 Euro plus value-added tax of the respective countries.