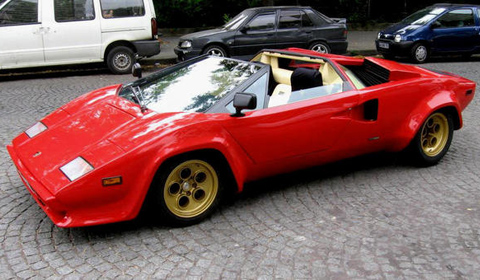 The Lamborghini Countach is one of the most iconic sport cars ever made. Thanks to its performance, wedge-shaped and sharply angled design with scissor doors the Countach became an instant classic. One very rare and unique version of the Countach for currently for sale.
The Lamborghini Countach entered the market in 1974 and a total of 2,042 cars were built. Five different evolutions of the Countach were constructed before the production ended as the car was replaced by the Lamborghini Diablo in 1990.
Although all Countach models were made as a coupé, one model was converted into a roadster by Californian importer Al Mardikian for British singer Rod Stewart. The Countach Spider was based on the LP400, the first series of the mid-engined Italian sports car to enter production. Thanks to its 375bhp V12 and weight of only 1065kg, the Countach Spider was able to reach a top speed of 315km/h.
This collectors item has driven 11,000 miles and has recently received a major mechanical overhaul. The Countach Spider is currently offered via Jameslist, the price tag is € 450,000.