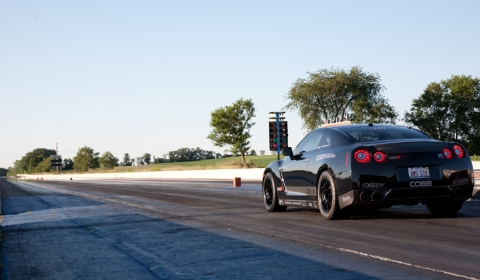 AMS Performance kept their word when they told us they would go back to the track under better track and weather conditions to set a better quarter mile time with their AMS ALPHA 12 GT-R. We can now report that history has been made!
On Tuesday July 26th the AMS ALPHA 12 GT-R went back to the track with a little more favorable weather conditions. The result was the worlds first 8 second R35 GT-R. Even with a poor 1.668 60 foot time, the ALPHA 12 driven by our own Special Projects Technician, Ivan Phipps, went 8.975 at 169.49mph.
In addition, the 60-130 time record was broken again with a 3.34 second blast from 60-130mph. This makes the AMS Alpha 12 GT-R the fastest recorded street car to date from 60-130mph. We want to congratulate the US tuner with this unique achievement.
Overall, not that bad for a street-legal sports car fitted with air conditioning, a Bose audio system, power steering, alloy and leather on the shifter, alloy on the doors and carbon fiber on the dashboard.
Check the historical run below and do not forget to the watch the full clip. They kept the best for last!