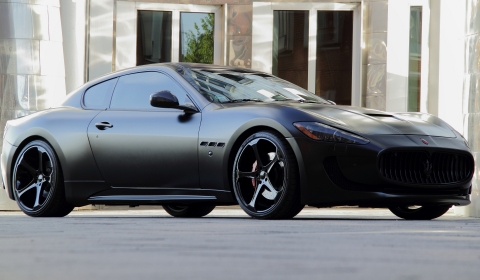 Anderson Germany has released a new program for the Maserati GranTurismo S, named the Superior Black Edition.
The exterior coating is silky matt black. Only the window frames, grill and the rear logo are made in shining black. Both front and tail lamps are tinted.
Anderson choose a proprietary glossy black exclusive rim with carbon framing in 21 inch all around, completed by sized 265 tires in front and 295 rear. They also lowered the sports car.
Next to the sports engine bonnet, the exterior packet includes carbon exterior mirrors, tailgate and roof ledges, as well as the lateral left and right air inlets. The German tuner has also given the car more sportive front and rear aprons, and a central exhaust system with a remote controllable valve command in two sound levels. The result is 13kg less weight and an increase of about 12hp. The total power increase by means of the exhaust, racing cats and software optimization climbs from 440 serial horsepower up to meanwhile 492hp.
The interior also has been refined with a carbon package, containing the air inlets, door knobs, the switch desk in the roof liner, the door sill panels, the steering wheel, the seat regulation levers, the shifting paddles, as well as the radio mask. The interior trim is a combination between black carbon leather and black Alcantara, keder piping and red rhombus seams.
A customized sound system with a new monitor in the dash board, monitors in the headrests, PS3 player, loud speaker, subwoofer and amplifier provide the appropriate multimedia.