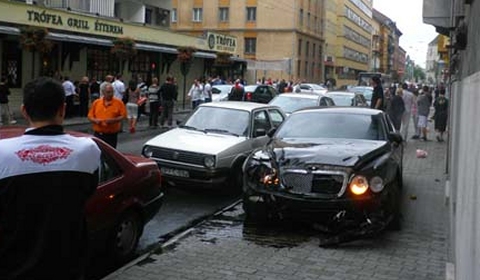 Yesterday evening around 20:00 local time a Bentley Continental GT was wrecked in Budapest, Hungary. The British luxury car travelled at high speed and didn't pay attention to a Dacia which was travelling at a normal speed.
After the side impact the Dacia spun and crashed into three cars parked next to the road. The Bentley went up the sidewalk on the opposite side of the road, and destroyed everything over a distance of twenty meters.
Fortunately, there was nobody walking on the sidewalk. Two children in the Dacia were slightly injured while the driver suffered serious injuries. No news on the driver of the Bentley.