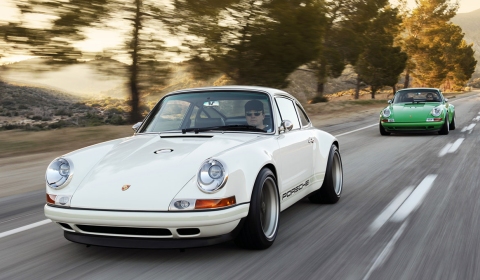 After almost four years of development and the delivery of its first three optimized, air-cooled Porsche 911s, Singer Vehicle Design (SVD) enters the next step with the announcement of two key partnerships. Cosworth will be the exclusive provider of engines to Singer, and the Aria Group will prepare, paint and deliver all of Singer's carbon fiber bodies.
Singer Design 911 combines the best of both worlds with a modern chassis and drivetrain cloaked in the classic lines of the original, painstakingly recreated in immaculate detail. From the beginning, Singer sought to create the "ultimate classic 911" by combining the characteristics of the air-cooled cars from 1964 to 1998 with a fresh design and engineering perspective, bringing the cars up-to-date for the 21st Century.
With Cosworth's expertise, SVD is able to offer a full range of engine options, with three tiers of performance levels: Touring – 3.6 liter engine, producing 300hp; Sport – 3.9 liter engine, producing 380hp; Cup – 3.9 to 4.0 liter engine, producing more than 425hp. The Aria Group offers a type of specialized carbon fiber previously reserved for Formula One standards.
Prices of this new type of 911 reflect a no-expense-spared approach with cars ranging from $ 190,000 to more than $ 300,000, depending on a selection of equipment which allows each customer to design a machine to their own specific tastes.