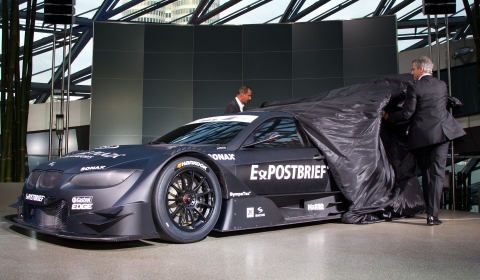 Just two weeks after the official roll-out of the new racing car for the 2012 DTM season, BMW presented the BMW M3 DTM Concept Car. Dr. Klaus Draeger, Member of the Board of Management of BMW AG responsible for development, and BMW Motorsport Director Jens Marquardt unveiled the car on Friday evening in the Double Cone building at Munich's BMW Welt.
The car offers an initial impression of what the BMW M3 DTM will look like when it lines up at the start of the 2012 season. BMW Motorsport also presented the first two drivers to be confirmed as wearing the company colours in the DTM as of next season – Andy Priaulx (GB) and Augusto Farfus (BR).
The new racer is equipped with a powerful V8 engine outfitted with an air restrictor as detailed in the technical regulations generates approximately 480bhp. The car accelerates from 0 to 100km/h in about three seconds and boasts a top speed of approximately 300km/h.
Three teams will compete in next year's DTM for BMW: BMW Team Schnitzer, BMW Team RBM and BMW Team RMG. The exact allocation of drivers to the three teams will be made at a later date. First, the teams are working hand in hand with BMW Motorsport to press ahead with the development of the BMW M3 DTM.