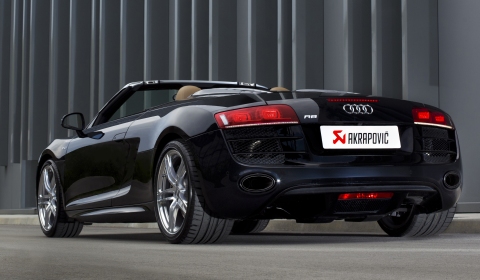 Akrapovic has launched a new titanium exhaust system for 2009-2011 Audi R8 V10 Coupe and Spyder. The new titanium Slip-On exhaust system fitted with carbon tail pipes.
According to the Slovenian exhaust specialist, the new kit produces a deep, resonant, drone free exhaust note. An optional wireless kit allows the driver to control the sound for street or track.
On the technical level the kit lowers the back pressure and achieves a power gain of 11hp at 6,800rpm and a torque gain of 16Nm at 5,000rpm. The total weight saving with respect to the stock system is 16kg.