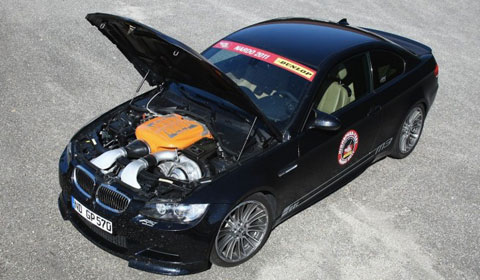 G-Power released a video of their BMW M3 SK II in action at the Nardo track in Italy. G-Power Supercharger SK II is based on the M3 V8 SKI which adds 105 horsepower over the regular M3 engine. The SKII kit takes the tuning levels further and brings the M3 Coupe to 610 horsepower and 580Nm of torque. At Nardo the new BMW M3 SK II reached 207mph at the Italian high speed track Nardo.
The ASA T1-521 supercharger increases the RPM level and airmass flow rate, increasing the PSI levels as well. Normally the M3 G-Power SKII Supercharger kit retails for $ 18,000, but according to some M3 owners, the results and thrill are worth the admission price.
Christain Stober, G-Powers' Vice President and Technical Director, drove the car around the track, and pushed it all the way up to 207.10mph. BMW M3 SK II goes from 0-62mph in 4.4 seconds, and reaches speeds of 124-mph in just under 13 seconds.
To cope with the power, the M3 SK II uses a GM3 RS coilover suspension, upgraded breaks, and upgraded tires.
[Via BMWblog]