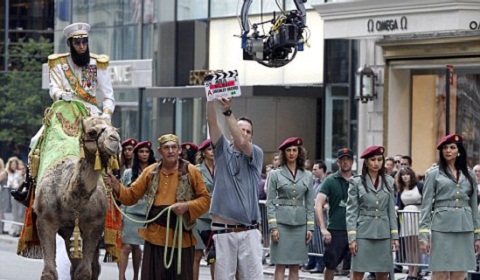 The Dartz Prombron will feature in the film 'The Dictator'; a Sacha Baron Cohen film depicting the ex-Iraqi dictator Saddam Hussein. A special gold-plated vehicle will be supplied to the film crew and will feature in the film according to the car's manufacturer, Dartz.
The film itself is scheduled for a May 2012 release and will feature Sacha Baron Cohen, of Borat fame, and Megan Fox among others. The Prombron is the perfect choice of vehicle for the dictator, mostly because of its B7-rated reinforcements.
If you're not yet familiar with the Promeron you can read our review, here. Options include either a hardtop or wagon look. Engines can be specced as either a Vortec 6000 V8 with 360hp, a Vortec 8100 V8 with 400hp and 850Nm of maximum torque and a 6.6 liter V8 Duramax diesel engine producing up to 360hp and 980Nm of torque at 1,800rpm. Dartz also offers three different protection levels; B2, B6+ and B7+. Prices are upwards of € 700,000.