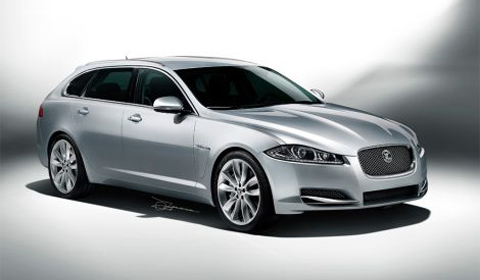 Jaguar confirmed they are working on a Jaguar XFR Sport Break. The R version based on the 2012 Jaguar XF Sport Break will be Jaguar's answer to the Audi S6 Avant and Mercedes E63 AMG Estate. The XFR Estate will have the same 5.0 liter supercharged V8 engine, that is good for 510hp, as the Jagaur XFR sedan.
The news is confirmed by the head designer at Jaguar; Ian Callum, in an interview with Autovisie.
The Jaguar XF Sport Break was a tough challenge to design. The development and design of the estate version of the XF started only after the XF sedan design was already finished. This posed some challenges to the design team who had to transform the four-door sedan into the new XF Sport Break. Because of the compromises made in the design from sedan to estate, the XFR Sport Break won't be the spaciest estate in the segment, but the aesthetics should be his unique selling point, according to Ian Callum.
With a bit of luck we will see a Jaguar XFR Estate in action like this within the next two years: