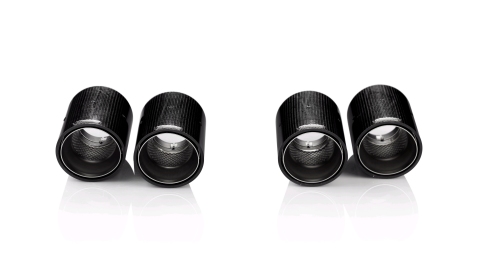 Akrapovic has released carbon fiber tail pipes for the BMW M3 (E90, E92 and E93).
The new carbon fiber tail pipes, an alternative choice to the titanium ones, are available with either the entry level fully titanium Slip-On (plus 3hp, 4Nm and 14kg lighter than stock) or with the Evolution titanium system.
The Evolution system equipped BMW M3 gets 22hp more power plus 35Nm of torque and weight saving of 24 kilograms over the OEM system. For those who prefer a fully titanium system the same gains are achieved with the titanium tail pipes fitted to the Evolution system.