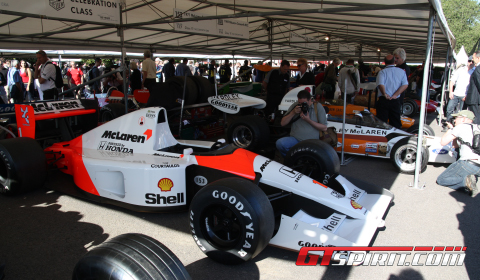 The Festival of Speed remains unique in its ability to attract the majority of the current season's Formula One teams and drivers, with at least seven of the twelve 2011 F1 teams showing up atr Goodwood, one week ahead of their British Grand Prix appearance at Silverstone. These GP teams are Red Bull, Scuderia Ferrari, McLaren-Mercedes, Lotus-Renault, Mercedes GP, Williams-Cosworth and Team Lotus.
Current F1 drivers and leading characters in action at the Festival were Jenson Button, Lewis Hamilton, Mark Webber, Nico Rosberg, Heikki Kovalainen, Timo Glock, Bruno Senna, Vitaly Petrov, Christian Horner and Adrian Newey.
The complete line-up of modern day race car drivers and race legends drove an unique variety of racing cars from numerous classes. In the paddock all models were nicely lined up so that we could have a closer look. What is your favourite?