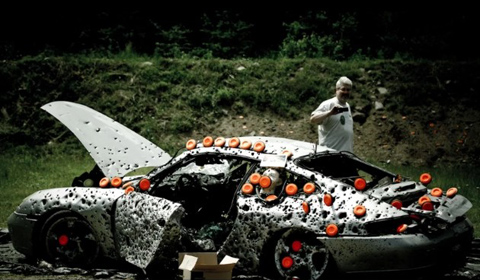 An American owner of a Porsche 911 decided to donate his car to charity in a remarkable and perhaps even quintessential American way.
After the engine and the entire cooling system of the German sportscar failed, the owner wasn't in the mood for the $ 20,000 repair job. It was concluded that the 911 was in no shape to be used in racing or sold off for parts. Therefore the owner decided to donate his car to a fundraiser event.
The 911 was sacrificed by the Commonwealth Second Amendment, a Massachusetts based non-profit dedicated to preserving and expanding the rights of gun owners in the northeast of the United States. Over 140 individuals showed with weapons and ammunition, forming an impressive firing squad shooting 10,000 rounds of hot lead into the poor car which was parked in a fake 'no parking' spot.
Watch the two videos below to see the Porsches execution. Interestingly, according to one of gun enthusiasts the Porsche held up better than most cars.
[Via Jalopnik]