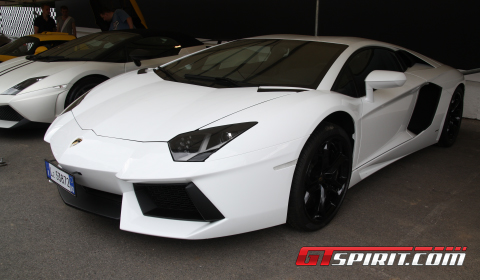 The 'expected' sports car of the year 2011 has shown its face at the 2011 Goodwood Festival of Speed. We are of course talking about the Lamborghini LP700-4 Aventador. The Italians are doing a worldwide tour with their brand new raging bull and Goodwood is the latest stop. Parked at the Supercar Paddock the Aventador is accompanied by another Lamborghini, a Gallardo LP570-4 Performante, and numerous other supercars.
As with all Lamborghini's this car is named after a bull. Aventador was the name of a bull that entered into battle in October 1993 at the Saragossa Arena, earning the "Trofeo de la Peña La Madroñera" for its outstanding courage.
Just a small recap. The Aventador Lamborghini LP700-4 measures 4.78 meters long, 2.26 wide (including mirrors) and stands 1.14 meters tall. The engine of the Lamborghini LP700-4 Aventador, which was released early on is a new 6.5 liter V12, which weighs 235kg and delivers 700hp at 8,250rpm and 690Nm at 5,500rpm. The LP700-4 weighs just 1,575 kilograms (3,472lb) which means that the Aventador has a power to weight ratio of 2.25kg/hp or 4.96lb/hp.
A choice of two-tone interiors is on offer with the "Sportivo" and "Elegante" versions, while a premium audio system and reversing camera are among the many technology options. Of course, the "Ad Personam" individualization program knows no limits when it comes to colors and materials. On the exterior, 13 production paint colours are available to choose from, three are highly sophisticated matt tones.