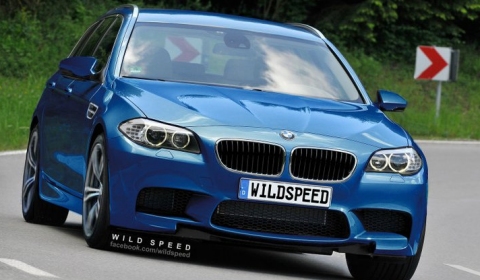 Professional artist Wild-Speed has created a new rendering showing the BMW F11M M5 Touring. The pictures are a mix of the brand new 2012 BMW M5 Sedan and the BMW F10 5-Series Touring available for some months now.
At this stage it is unknown if and when a Touring model variant will be available. If BMW decides to develop a wagon, it is quite certain that it will be powered by the high-revving 4.4 liter V8 engine used in the M5 sedan. The acceleration times will also be quite similar to the sedan and somewhere around 4.5 seconds to 100km/h and 13.5 seconds up to 200km/h. The voluntarily limited top speed will stay the same at 250km/h.
Feel free to share your opinion. Would you suggest BMW developing a BMW F11M M5 Touring?