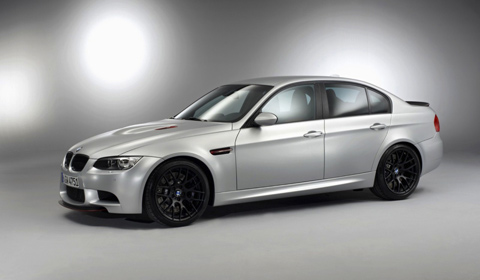 BMW just released the new BMW M3 CRT (E90), a sedan version of the Coupe M3 GTS (E92), at the M-Power event at the Nurburgring. The new BMW M3 CRT Lightweight Sedan has the same 4.4 liter V8 as the M3 GTS and the M DCT transmission. The reason this new M3 is simply called GTS Sedan is because a new Carbon Racing Technology is used for the first time in this BMW M3 CRT. The Carbon Racing Technology uses a new form of plastics that is reinforced with carbon fiber. This CFRP (carbon fiber reinforced plastic) is used for the new front bonnet, sport seats, rear spoiler and other carbon bits and pieces attached to the M3.
The use of this new material saves a lot of weight and hence the weight of the M3 CRT is reduced by another 45kg. Pair this with the uprated 450hp strong V8 engine and you have an M3 sedan that is capable of a 0-100km/h sprint in 4.4 seconds and an unrestricted top speed of 290km/h. The exterior of this particular BMW M3 CRT #00 is sprayed in Frozen Polar Silver with Melbourne Red details. The interior follows a striking Orange and Black scheme with an alcantara steering wheel.
BMW announced it will only build 67 examples of the BMW M3 CRT at a price of around € 130,000 in Germany.