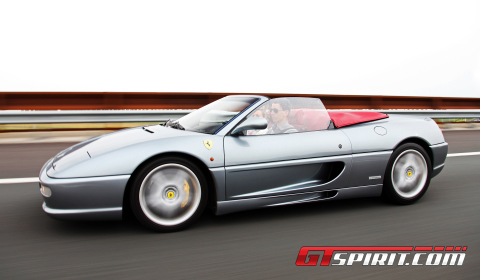 The Ferrari F355 is a two-seater sports car from the 90's. The mid-engined, rear wheel drive sports car is powered by a V8 with a displacement of 3.5 liter and a performance of 380hp at 8,250rpm and maximum torque of 363Nm at 6,000rpm. A sprint from zero to 100km/h is done in 4.7 seconds, 0–160km/h in 10.8 seconds.
Initially, only two models were available: the coupe Berlinetta and the targa-topped GTS. The Spider was introduced in 1995 with a total production of 3,717 units. The semi-automatic soft-top was powered electronically, a Ferrari first. The Spider shown in the video below has a six-speed manual transmission, but also a F1 transmission was offered. This F355 Spider is outfitted with a Capristo Stage 1 exhaust system. The Stage 1 system has a bypassvalve, which opens above a certain rpm.
One single afternoon with the Italian prancing horse showed us the heritage of the Italian brand from Maranello and the wonderful experience of driving open-top with a third-party exhaust outfitted to a true sports car. This F355 Spider left us with some kind of a true petrolhead feeling, one you will only experience in an open-top Italian V8-powered beauty like the F355.