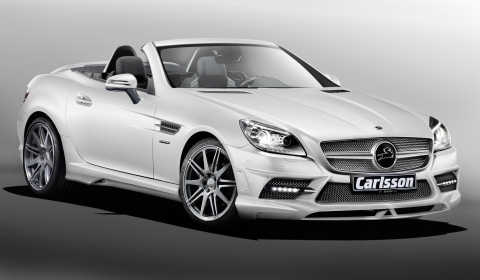 German tuner Carlsson has found numerous ways to personalise the brand new Mercedes-Benz SLK interior and exterior. A complete program has been released today.
The aerodynamics system, consisting of a front spoiler and rear apron insert (for cars with the AMG sports package, code 950), provides an additional downforce at the rear axle. The front spoiler and the rear insert are available for 620 Euro each, excluding VAT. The car's front received a new front spoiler lip RS available for 549 Euro and optional in real carbon, while the grille inserts made from electropolished stainless steel (449 Euro) replace the standard synthetic honeycombs in the front apron.
The rear view meanwhile got a stainless steel sports silencer with two stainless steel pipes left and right in the typical oval Carlsson shape (available for 1298 Euro). The acoustic engineers at Carlsson have developed a sporty sound. The diffuser insert and the rear spoiler cause the contact pressure at the rear axle to increase even further, according to the Germans.
Thanks to the additional control units, the engine power is boosted by anything between 27 and 40hp. The C-Tronic CB20 enables the SLK 200 CGI to achieve 211hp while the C-Tronic CB20S allows it to reach 224hp, compared with the standard model's basic power of 184hp. Meanwhile, the C-Tronic CB25 boosts the power of the SLK 250 CGI from 204hp to 231hp while the CB25S enables the engine to achieve 239hp. The C-Tronic CB20 and CB25 are available for 1190 Euro and the C-Tronic CB20S and CB25S for 1690 Euro.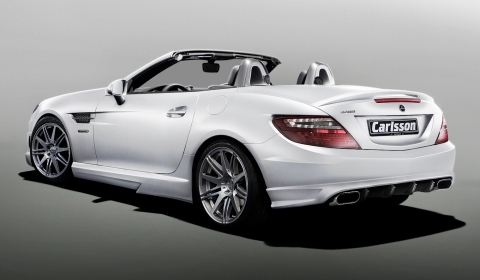 The lowering of the car's centre of gravity by up to 30 millimetres is achieved by using a suspension lowering kit (309 Euro), used in conjunction with tyres of up to 20 inches. Complete wheel sets starting at 18 inches are available from 1930 Euro.
The interior of the SLK receives an upgrade from Carlsson's own upholsterers based at Gut Wiesenhof. Carlsson Nappa, Carlsson Nappa Exclusive and Carlsson Nappa Exclusive Heavy Weight are offered as part of a basic package consisting of the upholstering of two seats, the headrests and the insides of the doors and are available from 3900 Euro including fitting.
The interior is further refined by the use of pedal pads made of brushed aluminium with Carlsson logos – suitable for both automatic and stick-shift vehicles – as well as the Carlsson gear selector with Alcantara appliqués, individual carbon features or, alternatively, fine wood inlays.