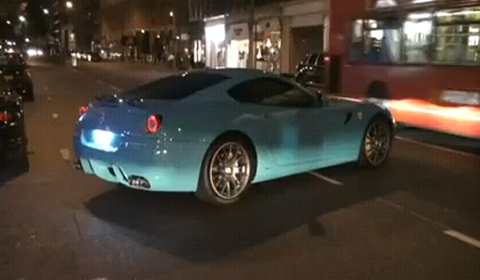 The London Police has stated that they will carry out spot-checks on foreign-registered Ferraris, Lamborghinis, Bugattis and other super cars. The main reason were released footages of Middle Eastern "boy racers" speeding around Knightsbridge with their high-performance cars.
Especially, a turquoise Ferrari 599 triggered their awareness. The vehicle is owned by an Iraqi playboy who bought the car from the Qatari royal family. The Al-Thani family is known for their penchant for turquoise sport cars.
Patrols will be carried out in the area around Harrods in Brompton Road as well as Sloane Street and Basil Street. A Met spokeswoman said:
We are aware of a number of videos online relating to high performance cars and will take action where possible. A number of operations are taking place, targeting anti-social behaviour, specifically from drivers of high performance cars. Officers are also ensuring that no traffic violations are being committed.
You want to see the footage? Click here and here for the full videos!
[Via Thisislondon.co.uk]