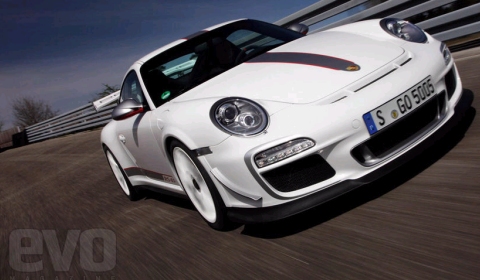 Our Photo of the day is the ultimate Porsche 911 GT3 RS photographed by EVO magazine. With 493bhp, it's got the most powerful normally aspirated engine ever to be fitted to a 911. It also features carbon body panels, an increased level of downforce and a revised suspension set up with uniball joints on the lower rear arms just like the 911 GT2 RS.
The 911 GT3 RS 4.0 makes it round the Nürburgring-Nordschleife in 7:27 minutes. The 911 GT3 4.0, available exclusively with a six-speed sports transmission, sprints to 100km/h from a standing start in 3.9 seconds, its gearing designed for the racing circuit taking it to the 200km/h mark in under twelve seconds.
Our British friends reviewed the lastest and most powerful version of the 997 Porsche. For more hi-res pictures check out their website. You will find EVO's review video below.