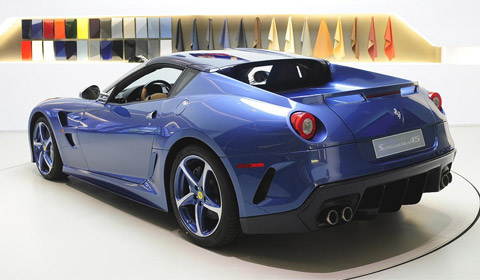 Ferrari unveiled a new bespoke Ferrari model: the Ferrari Superamerica 45. The Superamerica 45 is an one-off made for Peter Kalikow, a Ferrari collector from New York, to celebrate that he's a Ferrari client and driver for 45 years. The Ferrari Superamerica 45 is styled internally by Ferrari Design and engineered and built in-house, the Superamerica 45 will make its public debut on the 20th of May at the Villa d'Este Concorso d'Eleganza 2011.
The Ferrari Superamerica 45 is based on the Ferrari 599 GTB Fiorano. The design is bespoke, featuring a carbon fiber rotating hard-top which incorporates a rear screen like on the Ferrari 575 Superamerica. The boot is entirely new to house the roof when open, and is now in carbon-fibre with a design optimised to reduce drag and increase rear downforce.
The rear buttresses are body-coloured, integral with the rear wheelarches, and incorporate rear quarterlights. The side view is further distinguished by double air vents on the front wing. The Ferrari Superamerica 45 also features a specific chromed front grille and special burnished aluminium A-pillars, wing mirrors and door handles.
The Superamerica 45 is finished in an exclusive Blu Antille, a colour that matches another important car in the client's collection – a 1961 400 Superamerica cabriolet nr. 2331SA. The wheels are body-coloured with a contrasting diamond finish to the spokes. The roof and other carbon fiber elements of the bodywork – front splitter, side skirts and rear diffuser – are in a special contrasting darker blue, a theme that is carried over to the cockpit which features dark blue carbon fiber dash trim and driver zone.
The interior is another area of personalisation, with a combination of Cuoio leather trim and Blu Scuro carbon fiber details and a latest-generation touch-screen infotainment system.