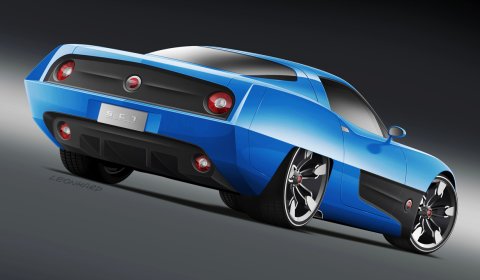 A German company from Karlshuld has released the Endora SC-1, a sports car combining the past and the present. The SC1 is based on sixted generation Corvette technology.
In its body shape the SC-1 among other things looks about the concept cars once built in the fifties, sixties and early seventies. Modern and timely interpreted without being too "retro" the SC-1 has sharply patered front, holding high-intensity-discharge headlamps and LED-fog lights, a long engine hood, an upward designed belt line including a swing and a flowing rear end. The rear of the SC-1 houses two LED-taillights. Below the beltline one can find a black painted diffusor that contains the back-up- and fog-lamps.
The coupé is equipped with a 6.2 liter Aluminum V8 engine producing 437hp and 424lb-ft of torque. The second step in matters of power would be another eight cylinder developing 512hp and 470lb-ft of torque out of its 7.0 Liter engine. The top-of-the-line model will feature a supercharged version of the 6.2 liter V8, that will deliver 647hp and 604lb-ft of torque to the rear axle. Every engine is mated to a six-speed-manual gearbox, while an automatic transmission with six gears and paddleshift is optional for the smallest V8.
The suspension of the SC-1 consists of cast aluminum upper and lower control arms, transverse-mounted composite leaf springs and monotube shock absorbers on all four ends. An electronic traction control is as standard as the Active Handling-system that monitors the driving dynamics. All Endora SC-1 will be delivered with 19 inch alloy wheels in the front and 20 inch rims in the back. As an option there will be 20 and 21 inch rims available.
The project looks promising, but it is now a waiting game until we see the first model on the road.