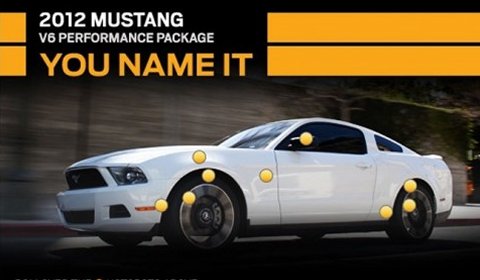 The Ford Mustang V6 Performance Package has an all-new name to go along with that. After Ford reached out to the nearly 1.4 million fans on the Mustang Facebook page, "Mayhem Mustang Package" has been chosen as the new name. The winning submission came from a fan in Charlotte, N.C., who has won a three-year lease on a 2012 Mustang equipped with the Mayhem Mustang Package.
Facebook fans were asked to suggest a name on the Facebook page and reach out to their friends in the social media world to help propel their choice into the top five names. A gallery on the page let visitors see all of the choices that could be voted on. After the five most-voted names were selected, Ford chose the name that best shows off the personality of the package.
The Mayhem Mustang Package will be used as the name on all Mustang sales, marketing and communications materials. The package includes the Mustang's 305-horsepower all-aluminum Ti-VCT V6 engine and numerous suspension, braking and body stiffening upgrades to deliver an improved handling performance.
The 2012 Ford Mayhem Mustang Package includes 3.31 rear axle ratio for quicker off-the-line acceleration, Mustang GT coupe front and rear stabilizer bars, Mustang GT front struts and rear shocks/springs, Shelby GT500 rear lower control arm, 19 inch wheels, Pirelli performance tires for improved grip, Mustang GT front and rear brake calipers with Performance Friction pads, Strut tower brace for increased body rigidity, electronic stability control calibration with sport mode and some badging.