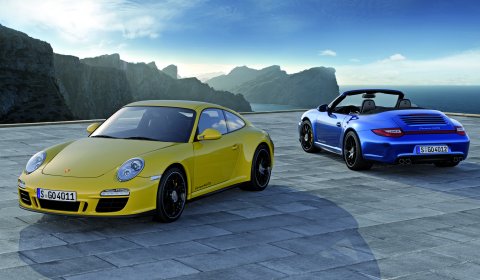 Porsche is extending the top end of its Carrera model line and pairing up each of the two 911 Carrera GTS with an all-wheel drive twin. That means that the 911 Carrera 4 GTS Coupé and Cabriolet will combine the 408hp top of the range engine of the Carrera GTS family with the all-wheel drive Porsche Traction Management (PTM).
The 911 Carrera 4 GTS power unit has its origins in the 3.8 liter, six-cylinder Carrera S engine. Revamping of the intake duct added 23hp, taking the power output to 408hp at 7,300rpm. At full power the Carrera 4 GTS Coupé sprints to 100km/h in 4.6 seconds, the Cabriolet in 4.8 seconds. The Carrera 4 GTS is fitted as standard with a six-speed manual transmission but the Porsche-Doppelkupplungsgetriebe (PDK) seven-speed is available as an option if desired. The PDK shaves an additional 0.2 seconds respectively off the acceleration times from 0 to 100km/h. The Carrera 4 GTS comes witih a standard limited-slip differential.
In addition to the type name on the doors and rear lid, the distinguishing characteristic of all models with all-wheel drive is the additional reflective stripe between the taillights. What the Carrera GTS models have in common is the 911's wide body, otherwise reserved for the all-wheel version of the 911s, and the rear axle track width that goes with it. The vehicles run on 19 inch RS Spyder wheels in black with central locking and gloss-lathed rim flanges fitted with 305/30 ZR 19 tyres on the rear axle.
Additional visual features include the Sport-Design front apron with black painted spoiler lip and special side skirts, also in black. Driver and passenger are accommodated on sports seats. Typical of the GTS, the sporty black Alcantara covering on center panels, steering wheel rim, gearshift and handbrake lever, door handles and door storage box lid and extension are offered as standard in addition to a range of leather upholstery options.
The 911 Carrera 4 GTS Coupé, including country-specific equipment and VAT at 19 per cent, is offered in Germany at a price of 111,956 euro, the Cabriolet costs 122,071 euro. Both models will be on sale in Germany from July 2011.