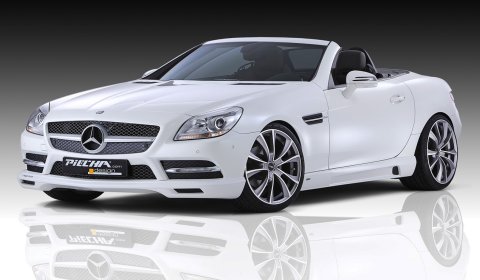 Piecha Design has developed a styling and tuning program for the new Mercedes-Benz SLK R172. The "Accurian RS" is a sporty, elegant interpretation of the Stuttgart-based roadster, according to the German tuner.
Piecha gives the new, more defined front of the SLK an Accurian RS front spoiler lip with lateral grids. The lip can be combined with a cover, which turns the grid into a three-part piece combined with the LED daytime running lights on the right and left side. For a quieter airflow around the lateral body of the new SLK, they installed a set of Accurian RS side skirt covers. The covers are bonded on the original side skirts. Furthermore, the opposed installed grids provide for a more prominent design. For all R172 models, no matter whether with the side skirts, the AMG or also the Accurian RS sills, the Germans offers per side four LED recessed spotlights each.
The rear end has an Accurian RS rear diffuser, which is available in a small and large version. The diffusor, which runs up to the subfloor, frames the Quadro four-tube mufflers. In both versions, the serial rear apron has to be slightly reworked. A diffusor application is also available for the AMG styling rear apron. The Accurian RS aerodynamic program is completed by a classical rear spoiler lip.
The Piecha MP1 monobloc high-tech rims size 8.5×19 ET25 with 225/35 R19 tyres at the front and at the back are optional 9.5 or 10.5×19 with 255 or 275/30 R19 tyres. The MP1 monobloc wheel is combined with 25mm lowering springs.
Piecha also offers practical comfort top control, which allows for an opening and closing of the top via the serial key up to a speed of 60km/h.