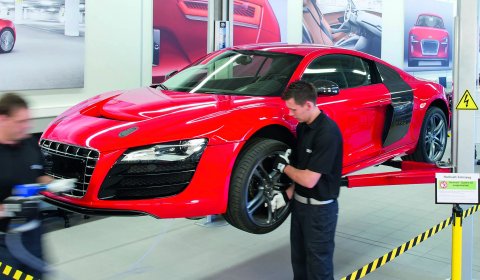 The first all-electric Audi will be built at the Neckarsulm site, with a small production run of the R8 e-tron sports car to hit the roads in late 2012. Quattro GmbH is currently building the first technology platform for the electric model at the Neckarsulm plant's satellite site in Heilbronn-Biberach. Specially qualified employees are borrowing from the series production of the successful Audi R8 mid-engine sports car as they assemble the R8 E-tron at the development workshop.
The 122nd Annual General Meeting of AUDI AG in Neckarsulm gave business and product journalists their first opportunity to look inside the development workshop for the Audi R8 e-tron.
The body is aluminum; thanks to Audi Space Frame technology (ASF), it weighs barely more than 200kg. The lightweight body is an important reason why the R8 e-tron weighs in at just 1,600kg.
The E-tron concept car was unveiled at the 2009 Frankfurt Motor Show. Powered by four motors – two each at the front and rear axles – drive the wheels and making this car a true Quattro. These motors produced a total of 313bhp and 4,500Nm of torque, resulting in an acceleration from 0 to 100km/h in 4.8 seconds and a limited top speed of 250km/h.
Just take a look inside the gallery for an overview of the development.