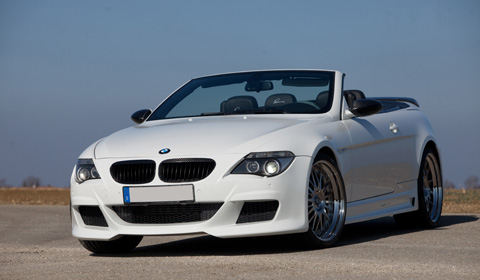 German tuner Lumma Design has revealed their latest package for the BMW 6 Series Cabrio E64. The package includes a new front bumper, a rear apron bumper that matches its counterpart in front pendant, and a rear wing. To improve the looks and sound a new four-pipe sports exhaust system has been installed.
The wheels comes in proprietary polished chrome rims in dimensions of 9.5×21 and 10.5×21 inches, covered with appropriate tires in dimensions of 255/30-21 at the front and 295/25-21 – at the rear axle. In addition, some exterior parts were refined in a checkerboard design with full carbon.
The interior is modified as well. The steering wheel is ergonomically shaped, flattened, and trimmed with carbon and leather. And the seat belts are colored white, just like the instruments and gauges in front of the driver. The built-pedal set is made of machined aluminum and additionally trimmed with rubber nubs in an anti-slip design. A complete set of the final highlights consists of interior door sills, a dash panel, a handbrake handle, seat back shells, etc. in real carbon, in the already mentioned checkerboard design too.
For more information visit Lumma Design.