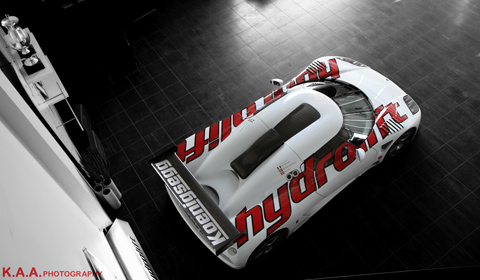 Today's Photo Of The Day features the most exclusive Koenigsegg built so far. This great shot shows the only one existing Koenigsegg CCGT.
The Koenigsegg CCGT was created for the sole purpose of racing in FIA GT1 World Championship. But when the car was finished, the regulations in FIA GT1 were changed. According to the new regulations, a minimum of 350 cars must be produced per year of the actual model that is going to compete. Since the production volumes of the Swedish manufacturer of supercars are much less than this, the company wouldn't been able to enter the car in GT1 racing.
The CCGT engine is based on the 4.7 liter 806hp Koenigsegg CCX production engine. But to meet the FIA GT1 regulations, the CCGT engine had to be down tuned by removing the superchargers. But it's also been bored out to 5.0 liters. This normally aspirated engine produces 640 horsepower. There is a sequential six-speed racing gearbox that can be paddle operated.
The minimum weight allowed for a GT1 race car is 1,100kg and the racing CCGT weighs in at just under an 1,000kg. This gives the possibility to place 100kg of ballast freely within the car structure, still following the set rules. This should give Koenigsegg an interesting advantage over the competition.
It would have been interesting to see this car participating in the FIA GT1 series, but too bad it never came so far. The result is that only one Koenigsegg CCGT has been made, making it unintentionally the most exclusive and rare Koenigsegg built so far.
This great shot was made by mrmisteraa.