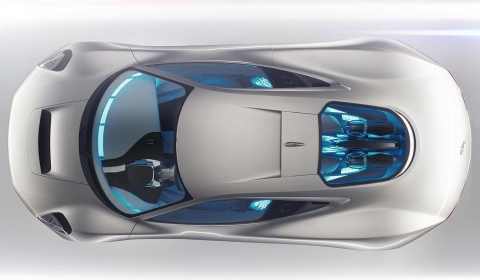 Jaguar has confirmed today that it will launch the remarkable C-X75 concept car as an exclusive hybrid supercar. Released at the Paris Motor Show in September of 2010 as a concept, the Jaguar C-X75 will become the British marque's most advanced model to date.
Jaguar expects this hybrid supercar to deliver incredibly low CO2 emissions of less than 99g/km while being able to achieve in excess of 200mph. The C-X75 will be developed in association with Williams F1 who will provide their engineering expertise in areas including aerodynamics, carbon composite manufacture and hybrid technologies.
The supercar's chassis will be made of carbon-fibre to create an incredibly lightweight, yet rigidly strong structure.
Jaguar continues to develop the use of the micro-turbine technology that was showcased in the original concept C-X75, but to bring Project C-X75 to showroom reality within the timescales of a conventional model programme, another powertrain had to be developed. The road-going supercar will use a small-capacity internal combustion engine with one powerful electric motor at each axle.
When C-X75's motors and combustion engine combine, it will be one of the fastest production cars in the world, with a sub-three second 0-60mph time and a top speed in excess of 200mph.
Only 250 examples will be built, each costing between £ 700,000 – £ 900,000 depending on market and local taxes.