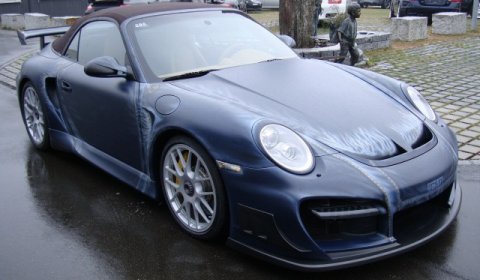 The following TechArt GTstreet R Cabriolet, based on a Porsche 911 Turbo Cabriolet, is for sale in Switzerland. The dark blue open-top sports car is an unique piece of machinery, not only because the TechArt treatment.
If you look closely on the pictures you will see the 911 exterior was paintbrushed with blue flames and demin details. Somehow it looks like the vehicle is wearing denim trousers, because at the back and at the front stichting is visible. On the inside the theme continues with more denim material on the dashboard, gear lever and the seats.
Overal, it seems to be a great job done, but it is a bit too much. For those interested, the vehicle will swap owner for CHF 500,000, which is 391,496 euros.