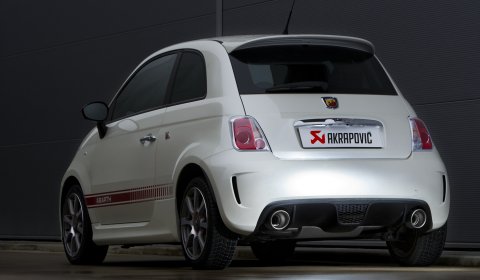 Slovenian exhaust builder Akrapovic is offering a new system for the Fiat 500 Abarth. The slip-on system offers owners of the little Italian to improve the soundtrack and the performance. Carbon and titanium tail pipes are also available.
The increased power different is +3,2hp at 4,850rpm and +4,1Nm at 3,700rpm. Weight difference is minus 2,9kg. A valve-controlled system with remote is available upon request. It gives users the option to control the exhaust tune themselves pushing a single button.
The slip-on system, carbon fiber or titanium tailpipes and the remote controlled valve will swap owner for € 490.