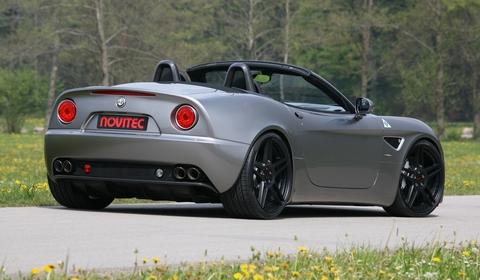 The 8C Competizione must be one of the best Alfa Romeo ever made, especially when you look at the short time it took to sell 500 coupes and convertibles. Novitec Rosso took a 8C Competizione into their shop. Result is a 600hp open-top Alfa!
Power output of the Alfa Romeo 8C, both the coupe and spyder, is upgraded to 600bhp together with 588Nm of maximum torque using a high-tech supercharger system. Thanks to this upgrade the top speed increases to a stunning 305km/h and a sprint from zero to 100km/h is shortened to just 3.9 seconds. In addition, Novitec offers a stainless-steel high-performance exhaust system, a custom-tailored tire/wheel combination with 21- and 22-inch and an adjustable sport suspension.
The high-tech supercharger conversion for the 4.7 liter V8 was modified to fit into the space under the hood of the Alfa Romeo 8C. Newly calibrated mapping for injection and ignition ensure a potent and harmonious power delivery and clean emissions.