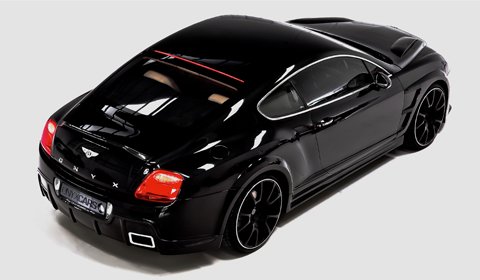 Onyx Cars are back and this time have moved away from the SUV market to concentrate on one of britains top luxury vehicles, the Bentley continetal GT. The conversion consists of a revised front bumper with carbon fiber inserts, DRL's and a carbon fiber lower splitter. The sides have been widened with some clean cut arches and side skirts. Lastly but certainly not least is the rear with a revised rear bumper and rear carbon fiber diffuser.
The boot lid has also been complimented with a carbon fiber touch in the form of a deck spoiler. Adding to the exterior conversion Onyx also have the additional extras that they offer to all their vehicles, this being bespoke buffalo hide leather interior and carbon fiber interior paneling.
The Irish tuners have their own suspension lowering system, the engine power upgrade which they haven't given an exact figure yet but have said that for the normal GT being 550bhp this will be over the 660bhp mark. Lastly they have given the car a set of their own 22 inch Forged Wheel Option in black.
A package named GTO4 will be available for all the flying spur clients. The car will be revised for the four-door Bentley with the rear carbon deck lid spoiler being reshaped and restyled along with a slightly different design for the front arch program.