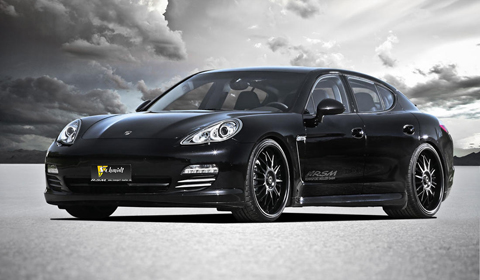 The Porsche Panamera is a popular car for tuning and the latest package for the Panamera was unveiled today. Two German tuning companies, Rennsport Müller and Schmidt Revolution, unveiled the Porsche Panamer(ican)a.
Based on the Panamera 4S, Rennsport Müller added a little extra power to the 4.8 liter V8 engine. Thanks to remapping of the ECU the power increased from the original 400 horsepower and 500Nm of torque into 425hp en 535Nm. Also, the exhaust system received a sound optimization and the adaptive air suspension gets lowered by 40mm.
Schmidt Revolution added the matt black rims in the sizes 10×22 inch rims with 265/30R22 tires at the front and 11.5×22 inchers and 305/25R22 tires at the rear. It should be noted that the team of Rennsport Müller will complete the leather works soon. So stay tuned for more!
For more information please contact Rennsport Müller.