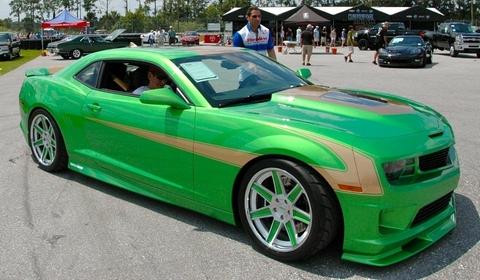 Tuned Chevrolet Camaro's are as usual as our daily sleep. A new project at the horizon is this 2011 Motion Camaro Phase III 427-SC, an 800 bhp strong muscle car, which was presented to the public at the Super Chevy Show at the Palm Beach Florida International Raceway last weekend.
The car comes with a GM LS7 427 aluminium-block fitted with a massive 2.8 liter Twin-Screw Supercharger System. The creation is a new partnership between Joel Rosen and Howard Tanner of Redline Motorsports.
Rosen said:
Back in the day we built record-setting 500-horsepower big-block Camaros and backed them up with warranties. My new 427-SC delivers 300 more horsepower…And, it has a one-year, 12,000-mile warranty.
This Motion Camaro Phase III 427-SC will be a limited edition model and will be priced at $ 150,000.
[Via WorldCarFans]