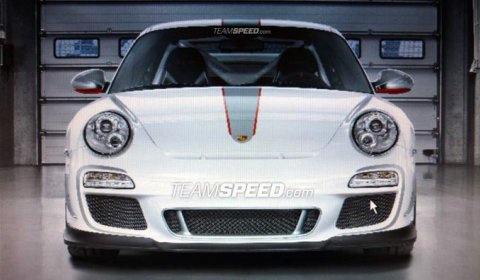 Two new pictures of the Porsche 911 GT3 RS 4.0 Limited Edition have been revealed via Teamspeed. The two images show the front and the right hand side of the uprated vehicle, which has not yet been officially confirmed by the sports car maker from Zuffenhausen.
No other information has revealed up this moment so let's summarize what we know so far. The front and rear wheel arches are wider and have rivets RSR style. The car will be fitted with spacers behind the rims to fit with the wider body. The front bonnet and rear boot are in carbon fiber and painted. Ceramic brakes come as standard and there is only a manual six-speed gearbox on the option list.
Despite few carbon fiber parts the overall weight of the car should be the same as the GT3 RS Mk2 due to the 4.0 liter engine being slightly heavier than the 3.8 liter. The rev limiter should be at 8,500rpm but this info cannot be confirmed at this moment.
The GT3 RS Limited edition has got new graphics, new paint schemes, a newly developed aerodynamic package, a two-tone interior setup, some suspension tweaks and a price tag of about $ 185,000. If you include the carbon fiber package it will cross the $ 200,000 boundary. The limited edition will be delivered to the US in August and September.
Stay tuned for the official release in the upcoming weeks.