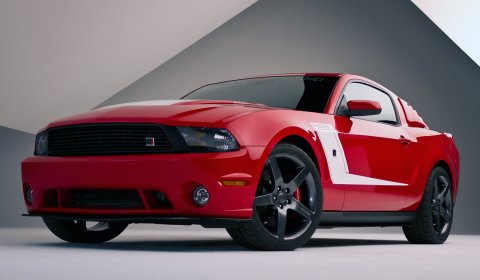 For the 2012 Mustang model year, Roush Performance introduced the new 2012 Roush Stage 3 performance Mustang. The 5.0 liter 4-valve DOHC TiVCT power-plant has received a R2300 RoushCharger, forcefeeding up to 12psi of inter-cooled energy.
The RoushCharger supercharger induction system increases the base horsepower from 412hp to 540hp and 465lb-ft of torque. Roush Stage 3 (RS3) package includes Roush's three year/36,000 mile power train warranty.
The 2012 RS3 takes to the streets with an all new graphics and appearance package. Roush Performance is offering a wide palette of color options for the RS3's appearance and curb appeal. This allows for personal customization of three different aesthetic elements of the car, eight choices for the base vehicle color, six stripe colors, and six stripe accent colors.
The RoushCharged 2012 RS3 vehicle is currently not available for sale into California and other states requiring CARB emissions standards. The estimated retail price for the typically equipped 2012 Roush Stage 3 Mustang is around $ 59,945. Actual final retail pricing will vary based on options selected. The RS3 is available with a six-speed manual transmission only and available via a Roush Authorized Ford Dealer by the end of April 2011.