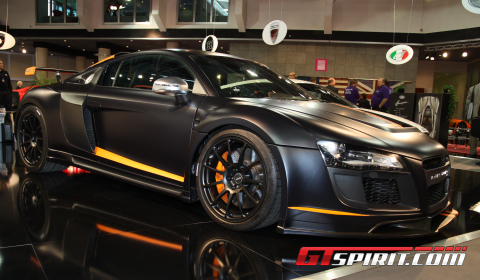 The PPI Automotive Design has relaesed the PPI Bi-Centrifugal Supercharger (B-CS) after the first initial relase at the Geneva Motor Show. The setup is specifically designed for long-term and daily use in the Audi R8 V8 model with manual transmission. PPI already combined a centrifugal supercharger with the R8 V8 4.2 FSI motor in 2009, and now they offer Bi-Centrifugal Supercharging system.
The B-CS system is driven by a Magnetic clutch with an integrated autonomous oil lubrication system. In addition,
compressed air leaving the supercharger is further cooled with the use of a separate charge-cooling system that uses its own radiators to cool the air before it enters the motor.
The total power of the new package is 801hp, a maximum torque of 860Nm at 5,910rpm and a supercharging pressure of 0,9 bars. The transmission is a six-speed manual with a modified 1st and 2nd gear. Acceleration from 0 to 100km/h is done in 2.9 seconds, top speed is 350km/h.