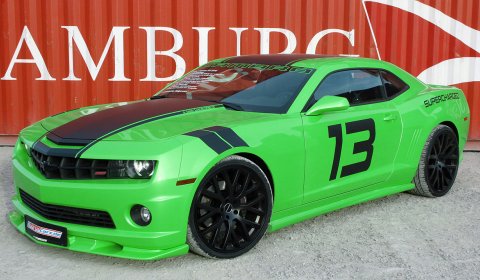 The highlight of the fifth generation of the Chevrolet Camaro is the model type SS (Super Sport), which is powered by a 6.2 liter V8, which in connection with a six-gear transmission, providing 432hp to the driven rear wheels. GeigerCars.de from Munich have created the Camaro Super Sport HP 564.
An in-house spoiler kit has been fitted to the muscle car consisting of front spoiler lip, side skirts as well as a remodelled rear part.
After optimising the engine software as well as installing a Geiger stainless steel sport exhaust system, the large-volume unit performs 564hp. The maximum torque is 662 newton metres. In only 4.2 seconds, the power coupe accelerates from 0 to 100km/h. The HP 564 reaches a maximum speed of 305km/h.
Geiger rims rotate in XXL formats 9×22 inch front and 10.5×22 inch rear. The matching high-performance tyres from Pirelli measure 265/30Z R22 and 295/30Z R22. Alternatively, GeigerCars.de offers the wheels also in the size 20 inches. The adjustable sports chassis comes from the specialists of KW and allows for a separate adjustment of bump and rebound damping. In addition, GeigerCars.de equipped the Camaro with an uprated sound system with EU navigation.
The Chevrolet Camaro Super Sport HP 564 complete vehicle is available at GeigerCars.de in Munich for the price of € 88,000.