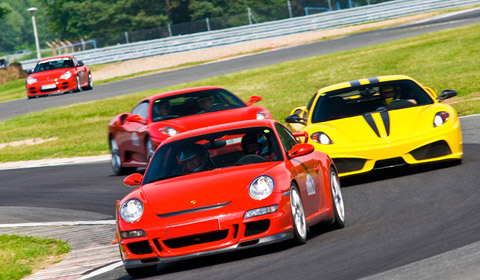 As official media partner of Gran Turismo Zandvoort 2011 GTspirit will give-away 5x 2 VIP tickets for the event at Zandvoort this Friday 15th of April 2011. As VIP you are welcomed to the track by the events hostesses and allowed access to participant-only areas like the pit lane and paddock. You can even experience how it is to race around the legendary former F1 track in the passenger seat of the Switzer tuned Nissan GT-R P800 from Total Car Concept (helmet required).
The track opens at 11:00 Friday for participants and VIP's and closes around 18:00. The general public can witness the event from the main grandstand, the paddock and pitlane are only accessible for participants, accredited press and VIP's including the winners of our give-away. Supercars from all over Europe gather at Zandvoort this Friday for the first edition of GT Zandvoort, following the big success of other Gran Turismo Events in Germany, Poland and Sweden.
All you have to do to have a shot at winning 2 VIP passes for GT Zandvoort 2011 is like GTspirit on Facebook and write: "I want to join GT Zandvoort 2011 as VIP" on our wall! We will randomly select 5 winners that posted on our wall before Tuesday 12th of April 12:00 CET that will win the tickets. The winners will be informed and announced on our Facebook on Wednesday.
[Photo by Maciej Kurczalski]