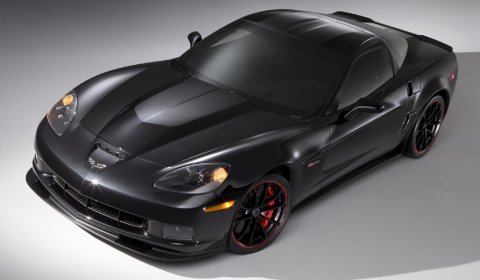 Chevrolet celebrates its performance heritage with the 2012 Chevrolet Centennial Edition Corvette, which features a sleek black color scheme, unique design elements and Corvette's trademark sports car technology. The 2012 Centennial Edition package will be available on all Corvette models – including Grand Sport, Z06 and ZR1 – starting this summer.
The special package was inspired by Chevrolet's racing-bred foundation. The Centennial Edition package comes exclusively in Carbon Flash Metallic, with satin-black graphics and unique Centennial Satin Black wheels and red brake calipers.
The wheels are constructed of lightweight cast-spun aluminum and include a thin red outline around the perimeter of its surface on the Z06. The wheels are specific to the respective Corvette models, including 18-inch/19-inch for Coupe, Convertible and Grand Sport; and 19-inch/20-inch for Z06 and ZR1. A graphic logo featuring an image of Louis Chevrolet appears on the B-pillars, the center caps of the wheels, and the center of the steering wheel. The seat headrests also carry an embossed centennial logo.
The exterior color scheme is continued inside the car, with the Ebony leather-wrapped instrument panel and doors complimented by red stitching on the steering wheel, seats, console and shifter. Microfiber suede accents on Centennial Edition seats, steering wheel, shifter and armrests were first used on the 2011 Z06 Carbon Limited Edition.
Chevrolet will auction a Corvette Z06 Centennial Edition at the Barrett-Jackson collector car auction in West Palm Beach, Fla., on April 9. The proceeds will go to the Austin Hatcher Foundation for Pediatric Cancer. It will be the 100th 2012 Corvette off the assembly line, with a vehicle identification number ending in "00100."
The Chevrolet Centennial Edition will be available on all Corvette models via order code ZLC. Pricing will be released this summer prior to the start of availability.