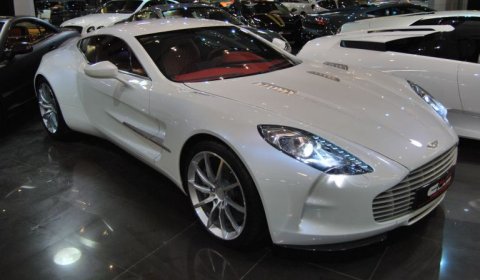 Alain Class Motors in Dubai, UAE is offering a second hand Aston Martin One-77. The white supercar is parked inside the showroom of the Arabian car company. The mileage is zero. The vehicle is parked in between Lamborghinis, Ferraris, Bentleys, Rolls-Royce Phantoms and a Mercedes-Benz SL65 AMG Black Series.
The limited supercar has a red interior with carbon fiber refinements. The mix between white and red looks quite unique and we are wondering why the owner placed his car in the showroom.
The 7.3 liter V12 squeezes out a wonderful 760 horsepower, making it the most powerful naturally aspirated engine in a production car. The One-77 delivers a maximum torque of 750Nm. 0-100km/h is reached within 3.5 seconds and the top speed is 220mph.
The price tag is undisclosed.