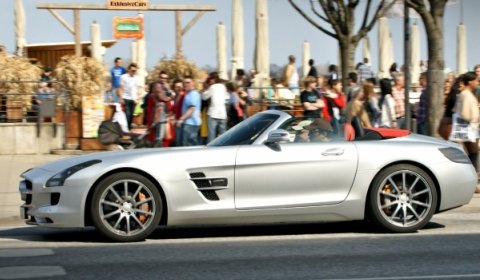 Numerous spyshots of the 2012 Mercedes-Benz SLS AMG Roadster have been shown on our platform over the past months. Each single time the car lost some of its camouflage. The latest series of pictures includes two shots made by a member at Autogespot.com in Hamburg.
You can clearly see that the vehicle is almost ready ahead of its debut at the 2011 New York International Auto Show or the IAA 2011 in Frankfurt in September.
The differences between the Roadster and Coupé are quite simple, the two gull-wing doors are absent. They are a superb part of the retrotastic styling of the Coupé sport car, but are replaced by an electrical canvas roof on the Roadster.