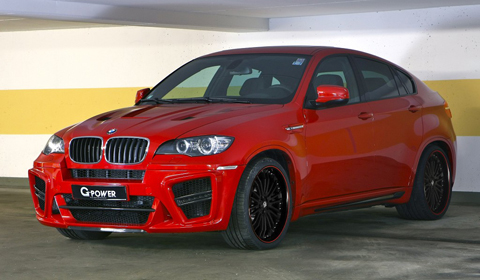 G-Power had already tuned the BMW X6 M, resulting in the 600bhp Typhoon and the limited V10 powered and 900bhp strong Typhoon RS. Now the tuner from Germany presented the latest addition to their fleet, the Typhoon S.
G-Power tweaked the exterior by redesigning the front skirt. The bonnet is made entirely from carbon fiber. To battle heat build-up in the engine large air intakes and vents are mounted on the front of the car and the bonnet. A full stainless steel exhaust system with four 125mm wide tailpipes delivers the necessary reduction of exhaust gas pressure. These pipes are made from carbon and the exhaust system is also available in titanium. The package is rounded off at the back with a diffuser entirely made of carbon fiber.
Powered by a 4.4 liter twin-turbo V8, the G-Power Typhoon S delivers impressive specifications. The engine has been re-mapped and the top speed limiter is removed. Thanks to these modifications, the maximum power output is 725 horsepower, which is an increase of 170hp compared to the stock X6 M. The torque is electronically limited at 890Nm, but with a reinforced transmission a total torque of 1,000Nm can be realized. These performance figures enables the Typhoon S to reach a top speed more than 300km/h and 0-100 acceleration within 4,2 seconds.
The wheel arches are filled with G-Power Silverstone RS aluminium rims measuring 11X23 inch at the front and 12×23 inch at the rear, but 22 inch is also optional. These wheels are fitted with 315/25 ZR 23 high-performance tires from Michelin which delivers optimum traction and sporty handling that is further enhanced by sports springs and a stance lowered by 30mm.
If required, G-Power can finish the interior to individual specifications with handmade leather and Alcantara upholstery.
The Typhoon S aerodynamic package is available starting at € 6,990 (net) excluding installation. Pricing for the 23 inch G-power Silverstone RS wheel set with Michelin tires is € 8,865 (net) and the G-Power power increase to 720hp including full stainless steel exhaust system and modified connection to the turbochargers starts at € 13,526 (net) excluding installation.
For more information, please contact G-Power.