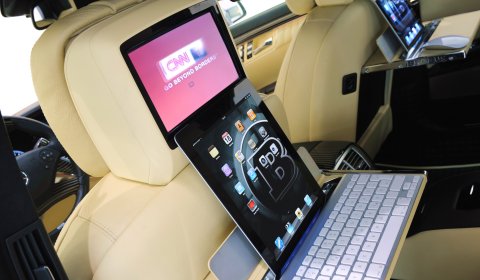 German tuner Brabus has released the Brabus SV12 R Biturbo 800 iBusiness 2.0 and is the first company worldwide to develop a multimedia system based on the new Apple iPad 2. The tablet computer, integrated into the rear compartment of the Mercedes S-Class, controls on-board entertainment and the high-speed Internet connection via UMTS and HDSPA. Overall, the new setup offers more possibilities than the first iBusiness generation.
The engineers have also developed an application that integrates the iPad 2 into the on-board electronics system and enables the iPad 2 to control all functions of the S Class internal system from the rear seats. Thanks to the integrated cameras of the new iPad generation the iBusiness 2.0 system is suited for video conferencing. As a Brabus 800 iBusiness 2.0 model the luxury sedan is also the fastest office on wheels. The twelve-cylinder twin-turbo engine produces 800hp and a peak torque of 1,420Nm. It catapults the four-seater to 100km/h in 3.9 seconds. Top speed is electronically limited to 350km/h.
The electrically deployed tabletop is covered with the same leather as the entire interior, and is bordered by a high-gloss aluminum frame. The table features custom-tailored recesses for holding the iPad and the corresponding Bluetooth keyboard either vertically or horizontally.
Via a WiFi network the iPad 2 is connected to a Mini Mac, which a serves as the central computer. The ultra-small computer is housed in the S-Class trunk under the rear shelf in an electrically deployed drawer whose design mirrors the design of the computer itself. When the iPad 2 is not in use, it can be stored securely and hidden from sight in custom-tailored compartments in the center console. An integrated docking station recharges its batteries.
The Brabus iBusiness 2.0 multimedia system with Apple iPad 2 can be installed in any current S-Class model from the S 350 to the S 65. The twelve-cylinder models S 600 and S 65 can be upgraded by the Brabus 800 V12 Biturbo engine and thus become Brabus 800 iBusiness 2.0 models, the world's fastest office on wheels.
For more information on the previous version click here.